Wireless technology is as common as computers themselves in any business' IT infrastructure these days. We rely on Wi-Fi not just for convenience, but remote connectivity and productivity. And for as much of an asset as wireless technology is, it's also notoriously insecure in its default state. A state many small & medium businesses tend to leave it in.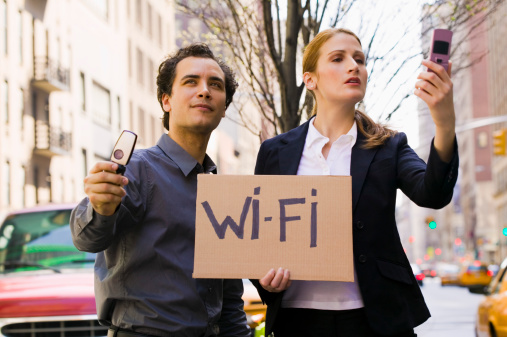 Securing your business' Wi-Fi is essential to the security of your sensitive data. Luckily, securing your Wi-Fi is also much, much easier than you might think. Here are five quick tips you can put to use right now to protect your business' wireless network.
Change Your Default IDs and Passwords – Devices like your wireless router, switches, and ports come with default settings that provide very little security – if they're secured at all. Each of these devices will come with default credentials that allow an administrator to make initial configurations. It's good practice to change these default passwords and device IDs as soon as the device goes live, but at the very least you should be changing credentials to something more secure as soon as the setup process is complete.Leaving these defaults in place makes it incredibly easy for hackers to get inside your network, either to use your Internet connection to browse and download free of charge, or to access your valuable business data. A quick Internet search will provide default passwords for each model of router, so if you think to leave that complicated string of letters and numbers in place will make things harder on a cyber criminal, you're mistaken.
Keep Wireless Networks Firewalled Off From Your Main Network – Any device connected to your Wi-Fi can access your entire network. That's part of what makes having a guest Wi-Fi connection in place for non-employees to use so necessary. Limiting or eliminating an unauthorized user's ability to get to the data stored on your network is crucial. A hacker can easily use your Wi-Fi connection to break into your system, unless you have a firewall in place that separates your wireless network from the rest of your network assets. This type of segregation is an excellent way to ward off cyber attacks.
Have Strong Encryption In Place – By default, an open Wi-Fi connection is a majorly insecure connection. Encrypting your network will keep hackers from spying on your private activities, and protect your data from theft. Encryption standards like WPA2 are a good option. You can also add an extra layer of security to your network by using an authentication protocol like EAP-TLS in addition to WPA2. This works great in a business environment, as it uses digital certificates in addition to passwords to validate users.Most importantly, you should be disabling outdated security measures like WEP and WPS that come standard with many devices. This type of bare bones encryption is easy to crack and offers next to no protection for your valuable data.
Keep Your Firmware Updated – Just like it's important to install updates and patches for your firewall, antivirus, and Operating System as they become available, you need to make sure that firmware updates are being regularly installed on your wireless router and other devices. Most technology is borderline-outdated by the time it hits the marketplace. These firmware updates are what keeps devices secure and current with the latest changes and advancements, and allow them to protect your data.
Use a VPN – A VPN (Virtual Private Network) is the best way to increase the level of security surrounding your valuable data. You have the option of either buying and configuring a private VPN server, or subscribing to a hosted server. Both options allow your computers and devices to connect to a central network that is insulated from other nearby networks, hiding your network from view and safeguarding your data.One last thing to keep in mind where your network security is concerned is Ethernet access. Even if your business relies entirely on wireless connections, there will still be Ethernet access ports in your office. Make sure these ports are physically secured, either by confining hardwired access options to a locked utility closet or using furniture as a barrier to block easy access to pre-existing and unused ports around your office. You can also use your firewall settings to limit access to your network through these ports.
Want to learn more about the steps you can take to keep your business' wireless network secure? Contact us at [email protected] or (403) 215-7506. We're the IT professionals businesses in Calgary trust.