Carrying a mobile device is now necessary to stay connected with your Enterprise. It's difficult to dismiss or imagine business without it. Most importantly where does one save their documents? Gone are the days of saving sensitive data onto the hard-drive. Lost or stolen devices are the norm, especially at an airport.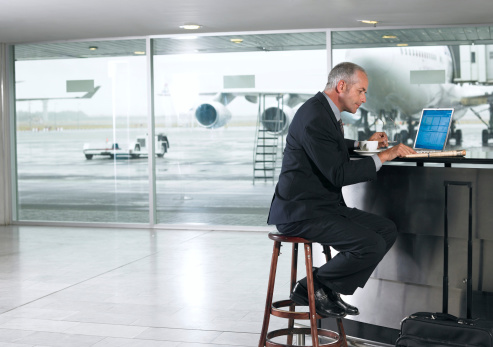 Backup Before Your Trip
Have a way to back up your files in a secure manner. Whether it from a VPN (Virtual Private Network) or Syncing the files from your PC or laptop would be the safest if a VPN is not available. Wi-Fi isn't always available and can also be a security vulnerability.
Arrive at the Airport Early
As they say, the early bird gets the worm. Arrive early at the airport as increased security is becoming more common. For large airports, flyers are recommended to leave at least two hours before a domestic flight. This allows time to actually get some work done if arriving early at the terminal. During the summer season expect an increase of travelers. If your time is valuable, then it's worth investing in a Global Entry or TSA pre-check for frequent flyers.
Place Laptop on the Airport Security Conveyor Belt as the Final Item
A laptop device is one of the most valuable and expensive item one can carry. Placing it last will minimize the time of it coming out last, as well as the potential of the person in front of you possibly walking away with it while you're still in the x-ray scanner.
Add a Tracker to Your Bag
Bluetooth trackers and associated apps can help you locate a missing item. This can range from a set of keys or a laptop bag within Bluetooth range, which is about 100 feet. Bluetooth technology has progressed and has hit a milestone over the years. Companies such as Tile utilize Bluetooth technology to help you locate missing items. LugLoc uses Bluetooth and Cellular Networks.
Use Public Wi-Fi Locations Cautiously
Phony Wi-Fi spots that can often steal personal information are not uncommon. They can become phishers and are used by cybercriminals. The urge for Wi-Fi convenience overshadows the security mindset. There have been cases of laptops being compromised during a flight. A mobile hotspot is definitely welcomed as a last resort.
Does your large organization need their laptop endpoints secured? Do you need regularly scheduled IT planning meetings? Does your company have a procedure for your mobile devices if your employees are frequent flyers?  Not sure if you have VPN (Virtual Private Network) setup? Accessing your mapped drives is a task you shouldn't worry about. It's important to access them securely, and leave associated security concerns to a team of professionals to help safeguard your organization's private information.